First published:
16th June 2022
Last updated:
4th July 2022
Image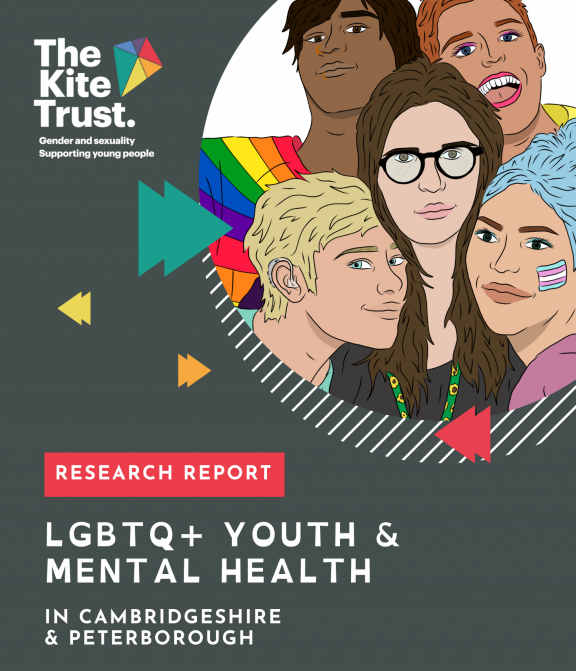 Who is this page for?
This report shares the findings of our research for all stakeholders including: mental health professionals, policy makers, young people and their families, and anybody else who works to support the mental health and wellbeing of young people. 
Summary
LGBTQ+ young people experience higher rates of mental illness and distress than their peers but are likely to be underrepresented in accessing mental health services. The Kite Trust wanted to explore the factors that help and hinder LGBTQ+ young people in accessing the mental health support they need, when they need it, and to make recommendations on how this might be improved. This report details our methodology, findings and recommendations from a year long research project. 
This research explored LGBTQ+ young people's experiences of accessing, or trying to access, mental health support, and their views on how to improve access to appropriate support. LGBTQ+ young people's voices, views and experiences were central to this research. A steering group of 10 LGBTQ+ young people aged 13-25 provided guidance, input and oversight throughout the project. Interviews were undertaken with 16 young people (aged 16-25) identifying as LGBTQ+ and living, working or in education within Cambridgeshire and Peterborough. The lead researcher also undertook case work with LGBTQ+ young people accessing The Kite Trust and currently trying to access mental health support.
Our key findings relate to LGBTQ+ young people's experiences of trying to access mental health support, their experiences of any support they accessed, and whether support was appropriate and timely. We found that:
Journeys to accessing mental health support are long and complex;
There were barriers in even initiating a search for mental health support;
Once accessing services, LGBTQ+ young people's needs are not fully met;
Staff lack specific knowledge and understanding relating to LGBTQ+ identities and experiences;
There were additional barriers related to other parts of one's identity;
Wider networks like friends, family and colleges can play a key role in accessing mental health support;
LGBTQ+ young people have clear ideas about what good support looks like for them and how services can better support them.
Our recommendations:
Adequately resource mental health services
Support young people to navigate mental health services and different forms of support
Adopt inclusive language and data systems
Work collaboratively to create a mental health support system designed for equitable outcomes and experiences
Want a hard copy of the report or executive summary? Fill out this form.
Download: Executive Summary PDF
Download: Full Report PDF
Download: Plain Text Version
Stream: Audio Recording of Full Report
Download: Report Social Media Toolkit